Antoine Boutin has made a career out of creating art for games, ads, and film. He's currently working for One Pixel Brush, a company that outsources their hires to AAA and indie devs in order to create concept art, a crucial part of any game's production. Among Antoine's portfolio is art for Detroit: Become Human, Quantic Dream's latest narrative epic. I got in touch with Antoine and he shed some light on his work, his inspirations, and his process.
Hi, Antoine! First of all, can you introduce yourself? What do you do, what studios have you worked for, what kind of work do you produce for them?
Hi! I am Antoine Boutin, I am 30 years old, and have been a concept artist for almost 6 years now. I've worked at Quantic Dream for 2 years on Detroit: Become Human, which was my very first step in the industry as a concept artist. I'm producing concept art, mostly environments and story shot/key shot for the game industry and advertisements. After finishing the design production of Detroit: Become Human I really wanted to be a freelance guy, so I tried my best to do so! I succeeded in this and worked for Warner Bros. Montreal on a title I can't speak about unfortunately, since it's not been released yet. After that, I worked for some others company like Unit Image, and Arte. Then, I applied to One Pixel Brush because I knew it was really a cool studio to work with and since then I've been fulltime for them!
How did you first get into the industry? Why did you want to work in concept art specifically?
I really wanted to work in the concept art industry because I've always loved painting, video games, and movies. I was really a huge fan of those. Because I loved these so much I used my spare time to do some personal concept art inspired by games, movies, and paintings that I loved, and shared it online. After some time, I was spotted by the Art Director of Quantic Dream, and they contacted me and hired me. What a lucky guy I am. 😛
Any games that have particularly inspired you or your work?
Yeah! I really fell in love with Half-Life, it's one of the first games I played on PC. I was really young, but damn I was in love and spellbound by it! I loved the Deus Ex franchise as well. I was a really big video game player so that list could be long. 😛 If I were to mention two it'd definitely be Half-Life and Deus Ex!
I see One Pixel Brush is a company that works for many different developers, almost like a freelance outlet. Does this mean you can find yourself working on very different types of projects in short spaces of time? In any case, how is working for an outlet like this as an artist?
I've been working for One Pixel Brush for a bit more than half a year now and so far I've worked on The Last of Us Part II. Sometimes we jump on something different but it's rarely the case! (For example, I just did one image for another project.)
There is a lot of talented people in OPB doing either cartoon or realistic stuff, and we tend to work on what we know the best. 🙂
I've picked out one of your many great pieces of work, this one for Detroit: Become Human, could you go into your process for creating this piece? 
I followed the process I learned at Quantic Dream. I had a simple SketchUp base because every environment needs to fit the game's design, then I designed the store in Sketchup. When everything was in greybox I went to texturing, painting, and lighting in Photoshop. Before starting any concept, we had a script to read to understand what the scene was, and what we should put in, as well as which type of mood we needed to do. Like for this one: rainy night! 🙂
And yeah, every image is challenging, we (the design team) aim to be as realistic as possible in terms of everything (texturing, lighting, mood), so I can say every concept was pretty much like a boxing match! Sometimes you struggle more, and of course, you learn a lot by doing it, so you become a bit better every time!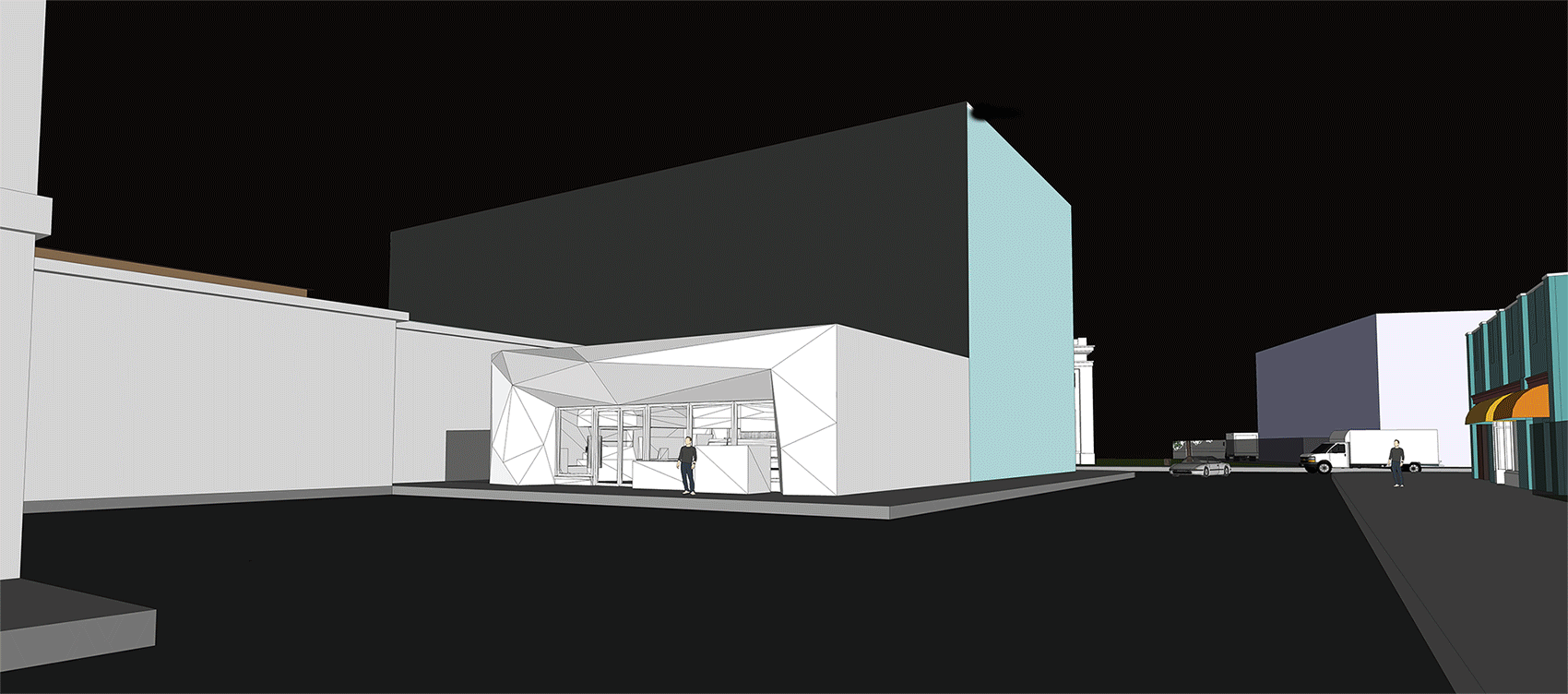 Do you have any favourite pieces of art you've made? Could you share them, why they're your favourite, and go a little bit into their design process as well?
I usually don't really like my work, but if I had to choose one I guess it's Ghetto Patrol, which is on my ArtStation, simply because it's more painterly and it's one of the more personal pieces I did.
The design process was a bit different than those Detroit concepts because I went full painting on this one so there was no SketchUp base.
How long do your pieces typically take to create? To what degree can it vary?
For finished pieces like the Detroit ones, it varies from 2 days to 4 days maximum. And it varies simply because some scenes are way harder than others.
What do you find most rewarding as a concept artist?
I guess creating something that doesn't really exist in the real world, but still can be seen as something that is existing. 🙂 And I really love to work lighting.
Do you have any advice for people who'd love to be in your position?
Well, it will be a bit déjà vu, but be passionate, curious, work hard, and fail harder. And have an open mind to everything. When I was part of Quantic Dream, after I did my day job I was going back to my place, and just by walking in the street and looking at everything I learned a lot. Why do I see this lamp reflection on the concrete? How does light work? Why is this material more reflective than another? Etc etc… It's really fascinating to dig a bit into that stuff and see how things work, and I think it's even better than just making a study of a movie. At least for me it worked better.
Where can people get in contact with you, should they have any questions?
You can contact me on my email: amn.boutin@gmail.com
or Facebook: https://www.facebook.com/antoine.boutin.925
or Instagram: https://www.instagram.com/amnesb/
or ArtStation: https://www.artstation.com/amnes
I don't know if anyone will have any questions. 🙂 There are plenty of concept artists way more talented than me, and that know way more stuff than me, but if I can help, sure!
Here's some more of Antoine's work: